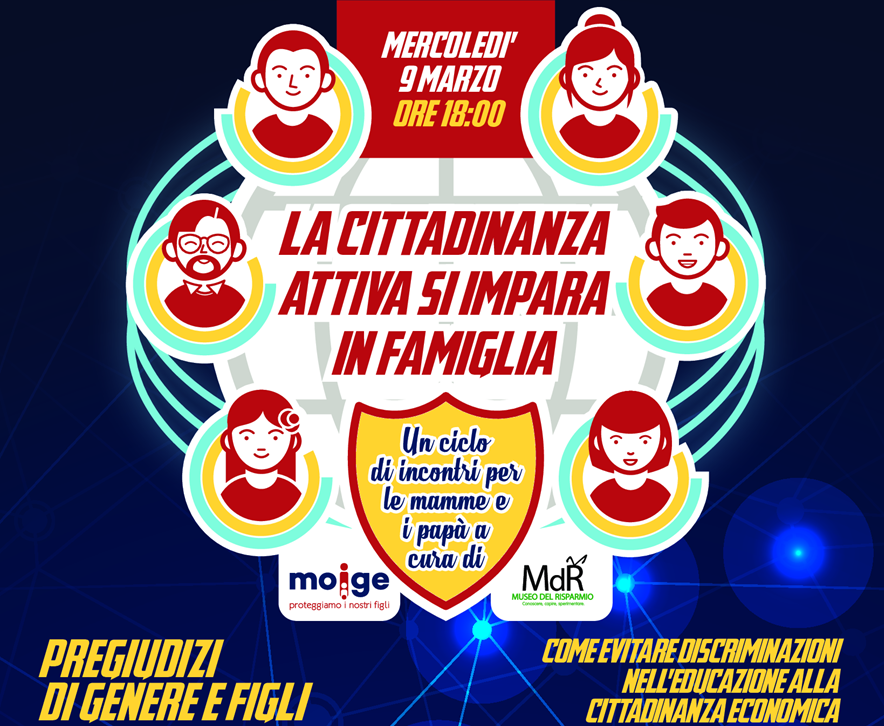 As part of the collaboration between MOIGE and the Museum of Saving, on March 9, at 6 pm, a new webinar dedicated to parents: "Active Citizenship is learned in the family".
How to avoid discrimination in economic citizenship education
Unconscious prejudices, often due to cultural stereotypes settled over time, can sometimes and involuntarily lead parents to adopt different attitudes between sons and daughters. For example, it may happen that girls are not encouraged to follow a school path in the field of STEM subjects (science, technology, engineering, mathematics) or not educated from an early age on the importance of achieving economic independence.
During the webinar, we will discuss how to identify involuntary discriminatory attitudes and some suggestions will be proposed to avoid falling into the trap of gender prejudice with children.
In preparation for the event, it will be possible to verify one's orientation towards gender prejudices through the test carried out by Harvard University at the following link: https://implicit.harvard.edu/implicit/
Program of the webinar "Gender prejudices and children: how to avoid discrimination in education for economic citizenship"
– Greetings from MOIGE: presentation of the project and introduction to the meeting
– Chiara Burberi, founder of REDOOC and author of "Le ragazze col pallino della matematica" (Girls with a passion for mathematics): bringing girls closer to STEM subjects
– Giovanna Paladino, director and curator of the Museum of Saving: the gender gap in financial education
– Sara Catarinella: practical tips for overcoming gender stereotypes in the education of children
– Q&A
Download event poster.
Participation is free and registration is compulsory at https://www.eventbrite.it/e/biglietti-pregiudizi-di-genere-e-figli-272556623197
tag: Gender prejudices and children: how to avoid discrimination in economic citizenship education