Saturday 5 – Saturday 12 – Saturday 19 September
10:00 – 18:00
Come and discover the novelties of our Museum!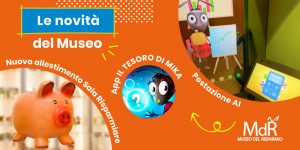 Coming back from the summer holidays, the Museum of Saving is waiting for you with lots of news!
The brand-new app "The Mica's treasure" will allow you to explore our Museum having fun. Our mascot Mica the ant will guide you through an exciting virtual treasure hunting with quizzes and games, which you can play alone, with your family or a small group of friends. Who will be able to correctly answer the questions and recover the precious grains, will receive the title of Master of Savings!
In the innovative "Test & Fun" station, you can chat with For & Mica and find out your money-type, as well as discover all the fun facts about the other rooms in the Museum. Before leaving, you can also print your profile and take it home as a souvenir.
Finally, don't miss the new layout of the Savings Room, where you can have fun discovering many new piggy banks through a virtual world tour, where each country or continent is separated from the other by columns of jars or pigs. Free guided tours of the collection can be booked.
Admission is free, and reservation is required by sending an email to prenotazioniMDR@operalaboratori.com
Book your single or group entry (max. 8 people), specifying if you are interested in the guided tour of the piggy bank collection.