According to the recent United Nations study "The Impact of Covid 19 on Women", the pandemic is amplifying inequalities, especially gender differencies. In this moment of great precariousness for the Country, and in particular for females, it becomes essential that women actively take care of their money, with special attention to social security aspects.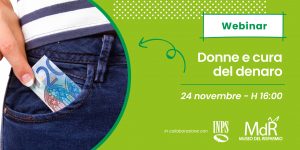 The seminar "Women and care about money", organized by the Museum of Saving in collaboration with INPS, will offer food for thought on the tools and ways in which women can acquire greater autonomy in managing their finances.
Program
16.00 – 16.30
Introduction
Hon. Marialuisa Gnecchi (Vice President, INPS)
Guglielmo Loy (President, CIV INPS)
Maria Giovanna De Vivo (President, CUG INPS)
16.30 – 17.30
Speeches
Emanuela Zambataro (Regional Director, INPS Piemonte)
"Women and the crisis: INPS and the support to female income" DOWNLOAD THE SLIDES
Giovanna Paladino (Director and curator, Museum of Saving)
"Women and care about money: why it's important to handle it" DOWNLOAD THE SLIDES
Daniela Del Boca (Professor of Economics, University of Turin)
"Knowledge of the pension system and women's awareness" DOWNLOAD THE SLIDES
Gabriella Di Michele (General Manager, INPS)
"INPS data for assessing the impact of public policies on gender" DOWNLOAD THE SLIDES
17.30 – 17.45
Q&A and Conclusions
Did you miss the event? VIEW IT ON OUR YOUTUBE CHANNEL – CLICK HERE
Download the program of "Women and care about money".
The event will be on WEBEX.
To access the meeting CLICK HERE on the date and time indicated (WEBEX connection instructions)
To receive all the information necessary to connect and a reminder of the event, write to info@museodelrisparmio.it
tags: Women and care about money