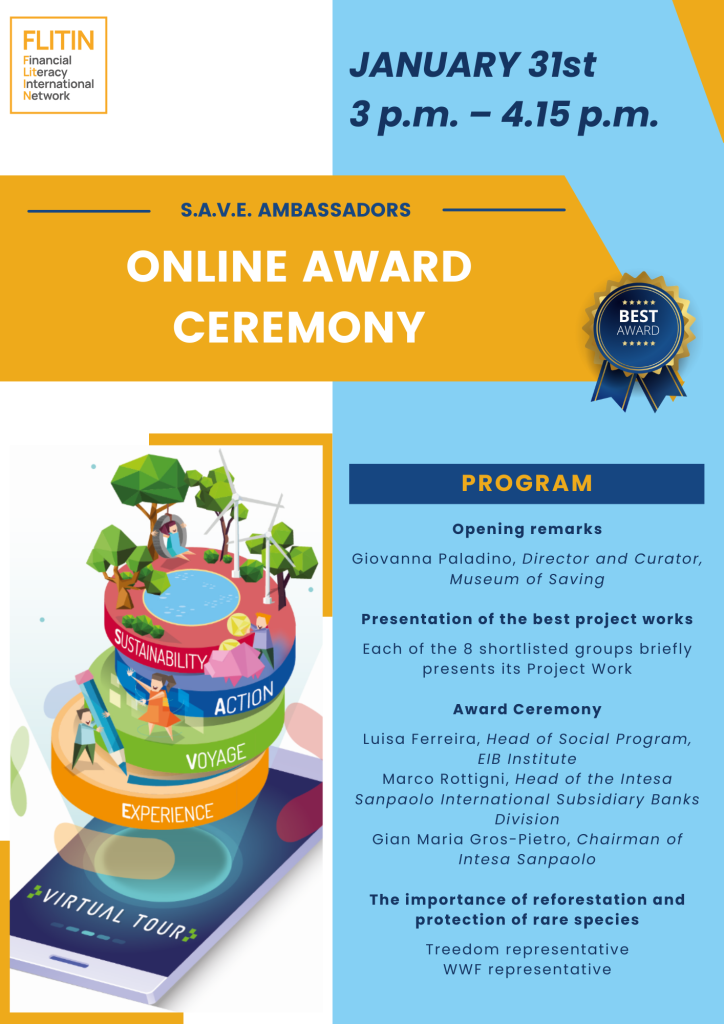 The FLITIN – Financial Literacy International Network of the Intesa Sanpaolo Group promotes "S.A.V.E. AMBASSADORS International Edition", the first joint initiative aimed at secondary schools (ages 16-18) in Albania, Bosnia Herzegovina, Croatia, Egypt, Hungary, Moldavia, Romania, Serbia, interested in actively involving their students in the development of an approach to life that is coherent with the objectives of economic and environmental sustainability.
The initiative, based on the S.A.V.E. Virtual Tour contents, aims to bring boys and girls closer to the themes of sustainability, circular economy, social inclusion and financial education.
After an introductory lesson held by the tutor FLITIN, the classes involved, 6-8 for each participating country, were called to map the unresolved problems of their city in environmental and social terms, and to propose their solutions. The activity involved interaction with local administration, associations and entrepreneurial activities of the area, and discussions with the citizens.
The result was the production of a project work through which the girls and boys of each school illustrated the results of their research and the proposals made to the mayor or the local institutions to solve at least one of the problems identified.
On January 23 each country selected the best project and the winning class.
The eight best works, one for each country, will be evaluated by a jury who will choose the top three to be awarded. The award ceremony will be held during an online event on January 31, at 3 pm.
The 8 finalists will present their projects through a short pitch and the first three classified will be awarded by a Jury made up of the Intesa Sanpaolo Chairman Gian Maria Gros-Pietro, Marco Rottigni, Head of Intesa Sanpaolo International Subsidiary Banks Division, Luisa Ferreira, Head of Social Program EIB Institute and Giovanna Paladino, Director and curator of the Museum of Saving.
Prizes
1st Prize: planting a new forest
The FLITIN network, in cooperation with the NGO Treedom, will plant a tree for each student from the winning class. The forest will be photographed and geolocated and have its online page. The forest will benefit the environment and people, absorbing CO2 and contributing to the local development.
2nd Prize: adoption of 20 polar bears
In cooperation with WWF, the 2nd prize will consist in adopting 20 polar bears. By 2050, polar bear numbers may decline by 30% due to the rapid loss of sea ice.
3rd Prize: adoption of 10 marine turtles
In cooperation with WWF, the 3 rd prize will consist in adopting 10 marine turtles. This will help monitor turtle movements and protect their habitat.
The initiative is supported by Banca Intesa Beograd, CIB Bank, Intesa Sanpaolo Bank Albania, Intesa Sanpaolo Bank Romania, Eximbank, Alexbank, Intesa Sanpaolo Banka Bosna i Hercegovina, PBZ.