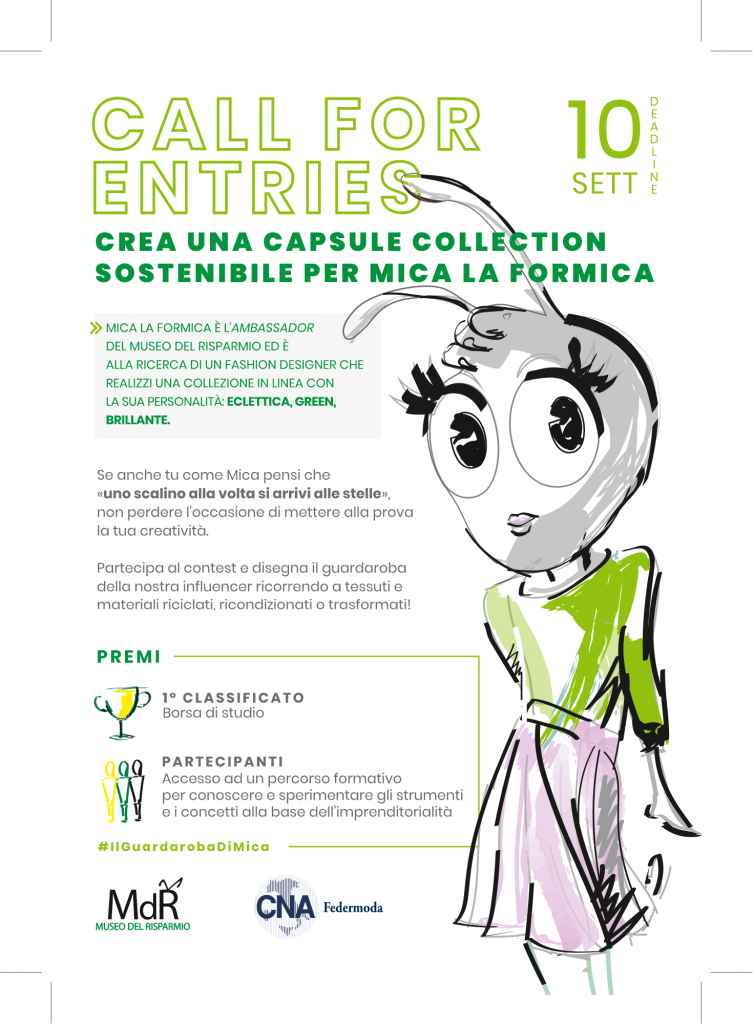 As part of the XXXI National Competition for Young Fashion Designers, the Museum of Saving and CNA Federmoda (the Italian Confederation of Craft Trades and Small- and Medium-Sized Fashion Enterprises) have started a partnership that offers participants the opportunity to win a scholarship of € 3,000 and follow a training course on entrepreneurship.
The young finalists of the Contest are entrusted with the task of creating a new wardrobe for the Museum of Saving's mascot, Mica la Formica, with the aim of transforming the symbol of the Museum into an influencer, capable of promoting a sustainable approach to fashion.
In line with the aims of the Museum, dedicated to promoting financial education, circular economy and sustainability in a broad sense, stylists must preferably use materials that meet sustainability criteria.
To all the young stylists who will participate in the Contest, the Museum will offer an entrepreneurship training course, useful for those who intend to start their own business in the sector, which represents one of the engines of Made in Italy.
The award ceremony for the Contest "The wardrobe of Mica" will take place in Milan on 22 September at 3:30 pm, coinciding with the opening of the Fashion Week.
The award ceremony will be online via Webex.
To access the meeting, click on the link https://bit.ly/ilguardarobadimica on the date and time indicated.
tag: Mica's wardrobe