From 9 to 10 December, the Museum of Saving and LIUC – Cattaneo University will host the new edition of the Campus "Fuoriclasse della Scuola", the first project in Italy that rewards the High Schools' talents , who are winners of the National School Olympic Games.
The project aims to enhance excellent students through scholarships and participation in an innovative financial education Campus.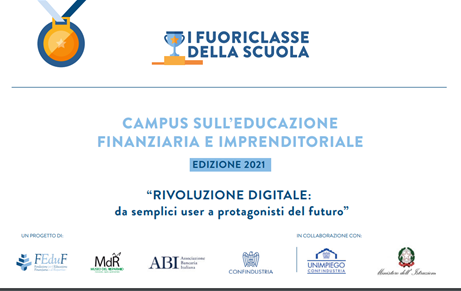 "DIGITAL REVOLUTION:
from simple users to leaders of the future "
The digital revolution, perhaps the fastest and most pervasive phase of change that mankind has ever experienced, is profoundly changing the world in which we live.
The transition from analogue to digital technologies has changed not only the way we spend our free time and socialize, but also our way of working. Coding, artificial intelligence, big data will be the basis of the professions of the future, and even now, in Italy, the demand for figures able of understanding and managing new ICT technologies far exceeds supply.
In a scenario increasingly dominated by the digitization of financial products and services and by a growing use of virtual payment tools, gaining digital skills also means managing money consciously and understanding how to defend ourselves from fraud and illegal behaviors.
The Campus will provide the School's Star Players with an opportunity to reflect on the importance of investing in digital skills, both to increase their chances of finding a satisfying job and to manage more effectively their financial resources. Topics such as digital transformation, fintech, digital start-ups will be explored thanks to the contibution of experts and entrepreneurs.
Download the program of the School's Star Players Campus 2021.
tag: School's Star Players 2021