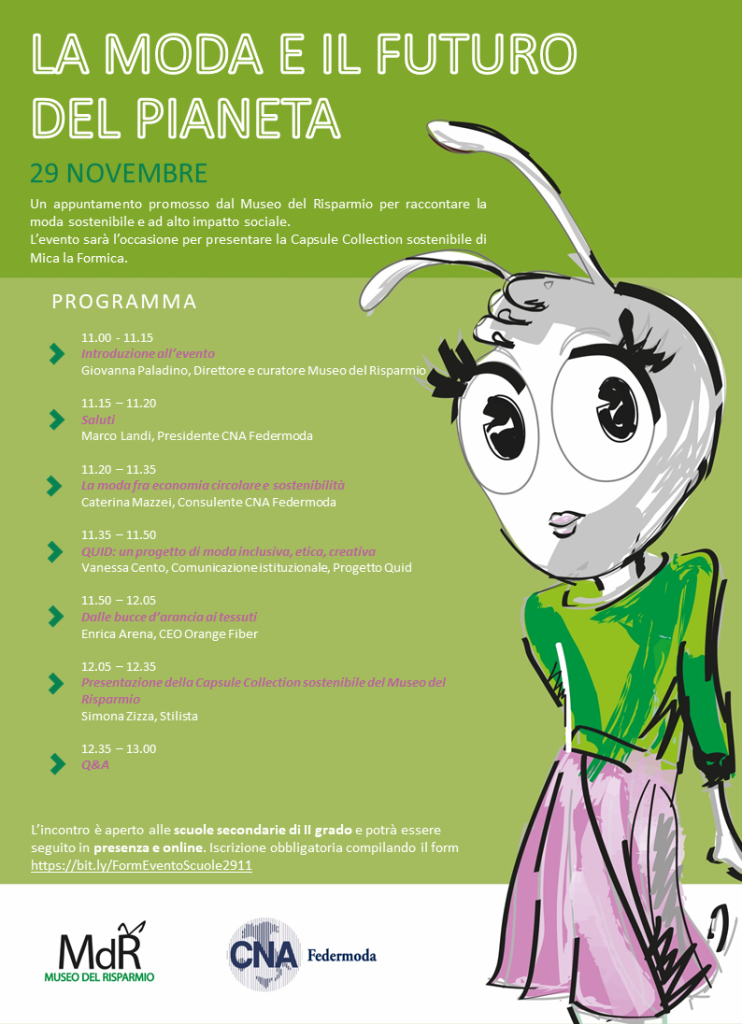 On 29 November, at 11 AM, the Museum of Saving, in collaboration with Federmoda, is organising "FASHION AND THE FUTURE OF THE PLANET", an event that will deal with circular economy and sustainability applied to fashion, a sector of crucial importance for our economy.
An event for secondary schools (available also online) with the special participation of two excellences of Italian sustainable fashion, QUID Project and Orange Fiber, innovative and successful enterprises that can provide a great stimulus for young people approaching the world of fashion.
The event will also be an opportunity to talk about the transition towards a more sustainable and inclusive fashion, and to present the sustainable capsule collection that a young designer has designed for MICA, the mascot of our museum.
Attached is the poster with the detailed program.
How to participate
Participation is free of charge with compulsory booking by filling in the form https://bit.ly/FormEventoScuole2911
Please find below slides of the speeches:
Fashion between circolar economy and sustainability – Caterina Mazzei, Consultant CNA Federmoda
QUID: an inclusive, ethical, creative fashion project – Vanessa Cento, Institutional Communication, Quid Project
Presentation of the Sustainable Capsule Collection of the Museum of Saving – Simona Zizza, Stylist
tag: FASHION AND THE FUTURE OF THE PLANET