Go for it! Test yourself! Choose your favorite game and win points for the final ranking. Understanding how to manage your money is not difficult, it is just a question of balance. Use what you have learned during your visit.
In this Room you can put your financial management skills to the test in a number of interactive games designed for young children, teenagers and adults. You can see the consequences of your actions and test your ability in using money by looking at your final score.
Overview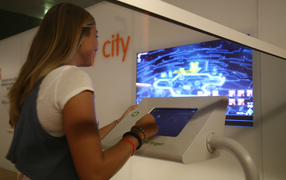 The main table and the wall installations offer five interactive games and applications for all ages. Furthermore, the Financial Planner allows visitors to reflect on welfare savings.
Watch the video of the room Experiment.